Laser scanners are an important part of the products on display at the yearly INTERGEO Exhibition. As the overview of different types of laser scanners from different vendors below makes clear, they are more and more integrated with other data collection hardware, so that vendors can create integrated scanning solutions and systems, instead of offering standalone sensors.
RIEGL's scanning solutions and systems
RIEGL introduced multiple new product offerings regarding airborne laser scanning, terrestrial laser scanning, UAV-based laser scanning and mobile laser scanning. Two new airborne laser scanning solutions were introduced: the first one, the RIEGL VQ-780 II, is an waveform processing airborne laser scanner for wide area mapping, designed for data acquisition of low, mid, and high altitudes with a pulse repetition rate of 2 MHz and more than 1.33 million measurements per second. Second, the RIEGL VQ-1560 II offers an integrated airborne laser scanning system with a pulse repetition rate of 4 MHz for an even higher productivity than the VQ-780 II scanner.
Additionally, RIEGL introduced the VMX-2HA-BC ("Basic Configuration"), another edition of its VMX-2HA Dual Scanner Mobile Mapping System, but reduced in weight and size here. The RIEGL VP-1 with VUX-240 is a new available configuration of the VP-1 Helicopter Pod that is now fully integrated with the RIEGL VUX-240 Airborne Laser Scanner, suited for corridor mapping. The new RIEGL miniVUX-2UAV is a solution for UAV-based surveying and the sister type of the RIEGL miniVUX-1UAV sensor.
Leica Geosystems' new hybrid oblique imaging and lidar airborne sensor
Leica Geosystems showed its Leica BLK2GO handheld imaging laser scanner that was released earlier this year during the HxGN Live event in Las Vegas. An entire new laser scanning product release was the Leica CityMapper-2 hybrid airborne sensor, an improvement of the first hybrid oblique imaging and lidar airborne sensor that was specifically designed for urban mapping and smart city applications. The latest sensor is designed to provide faster updates while preserving image quality over a wide range of flying conditions. The most significant improvement is a newly developed optical system incorporating two nadir (RGB & NIR) and four oblique 150 MP metric cameras using CMOS technology and equipped with Leica Geosystem's mechanical forward-motion-compensation (FMC). The lidar sensor's pulse repetition frequency has been increased to 2 MHz and features gateless Multiple-Pulses-in-the-Air (MPiA) technology, delivering 3-centimeter range accuracy.
Trimble's new 3D laser scanning system
We recently covered the announcement of the Trimble X7 3D laser scanning system. At INTERGEO Trimble also announced workflow improvements of its indoor mobile mapping solution (TIMMS, Trimble Indoor Mobile Mapping Solution, that provides both lidar and spherical video and enables the creation of accurate, real-life representations of interior spaces and their contents) through new software releases.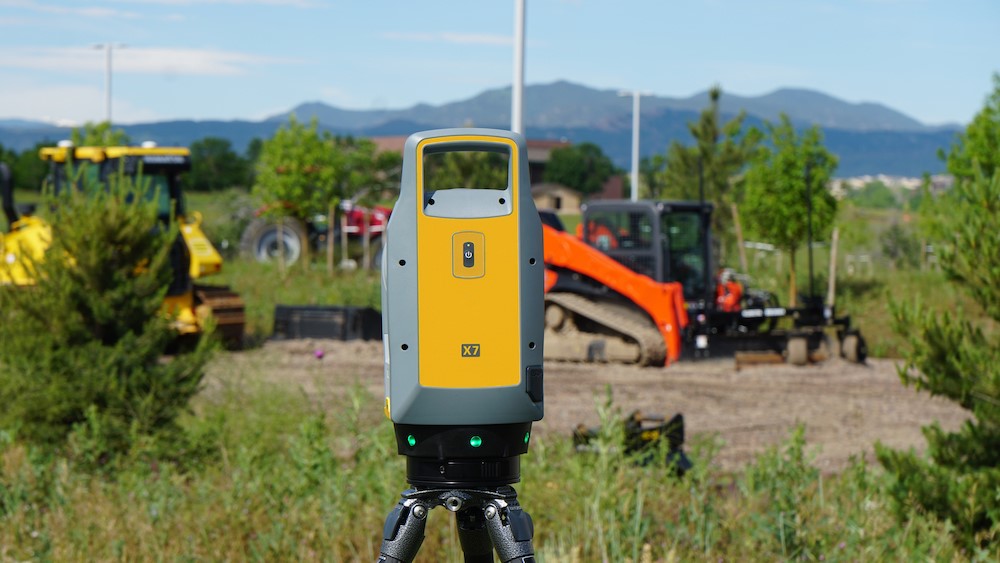 Topcon debuts new robotic total station, combining a 3D scanner and integrated total station
Topcon debuted the GTL-1000, a compact scanner integrated with a fully featured robotic total station, enabling a site engineer to complete a layout and scan on a single set-up. By combining the capabilities of a 3D scanner and robotic total station into one instrument, Topcon recognizes the need to operate faster in construction to realize cost savings, as instrument eliminates the need for third-party scanning companies on-site. Additionally, the GTL-1000 is designed to speed up construction verification workflows, to be used in combination with the ClearEdge3D Verity software that automates construction verification.  This way, users are provided with a live, 'as built' model of projects allowing them to identify and rectify any discrepancies quickly.
FARO's new indoor mobile scanner
FARO debuted a new indoor mobile scanner solution that enables completion of kinematic 3D scans up to 7X faster than a series of traditional, fixed point scans over comparable areas. Additionally, as the Mobile Scanner includes fixed scan capability as a standard feature, users can simply switch to high-fidelity scan mode in real time for seamless integration with mobile scan data. The Indoor Mobile Scanner solution combines several technologies, including FARO's patented Focus Laser Scanner technology. At the time of writing, no product specifications were available of this product release.
GeoSLAM's integrated laser scanning and imaging solution
GeoSLAM released the ZEB Discovery, an integrated laser scanner and imaging solution for urban mapping. The ZEB Discovery is capable of data capturing using the company's own SLAM (simultaneous localisation and mapping) technology and NCTech's iSTAR Pulsar panoramic camera for ultra-high definition image capture. The captured point cloud is synchronized automatically with the imagery, producing a walk-through of the area where the data was captured. The solution can be used as a backpack for data capture on foot, on a car or UAV.
The solution uses a ZEB HORIZON laser scanner, introduced last year at INTERGEO, which has a range of 100 m and its sixteen sensors scan 300,000 points per second. Dependent of the environment, the relative accuracy is 1 to 3 cm. The camera dimensions are 118 x 118 x 191 mm, with a frame rate up to 7fps. The four f/2.6 fisheye lenses offer a 360 x 145° +/- 5 deg FOV.
Teledyne Optech's new aerial lidar sensor and long-range scanner
The Galaxy T2000 is Teledyne Optech's latest addition to the Galaxy platform: an airborne laser terrain mapper for wide area and corridor surveying. It offers a 2 MHz laser emission rate directed fully to the ground by a new high frequency, programmable scanner for effective point distribution. Combined with Teledyne Optech's patented SwathTrak capability, the Galaxy T2000 is capable of maintaining fixed-width data swaths in mountainous terrain via an innovative and dynamic field-of-view (FOV), enabling far fewer flight lines and more equidistant point spacing compared to fixed-FOV sensor designs. With a much narrower beam divergence at 0.16 mrad (1/e), the T2000 can produce higher energy density within the laser footprint, which has the advantage of further increasing ground detection in heavily forested environments.
Teledyne Optech second laser scanning product release at INTERGEO was the TLS-M3 long-range scanner, developed for marine, monitoring and mobile applications. With the capacity to operate at up to three speeds, the TLS-M3 has ranges of 250m up to 2000m and is versatile enough to be used for tripod, platform or vehicle scanning. The wide, adjustable field of view provides up to four returns at 50,000 to 500,000 points per second. Designed for marine applications such as port and harbor, coastal and structure survey, TLS-M3 also specializes in real time monitoring for permanent installations and volume computations and land mobile mapping for asset management and clash detection.
Lidar is increasingly being integrated into systems and solutions
As the overview makes clear, new laser scanners are increasingly being integrated into systems and solutions that oftentimes combine multiple data capture techniques, enabling higher-quality data production. This combination enables vendors to release solutions that can be used for different user scenarios, a good example being GeoSLAM's ZEB Discovery, that can be used with a backpack, car or UAV. Cost reduction is another selling point for integrated systems: Topcon's GTL-1000 robotic total station eliminates the need to hire or purchase laser scanners as they're integrated in the product. Speed is another factor for integrating different products into one solution.
On a side note, it must be stated that not all hardware described above is truly new: for example, the ZEB Discovery and both the Riegl VP-1 HelicopterPod and VUX-240 Airborne Laser Scanner have been around for some time, but as separate offerings. This process of integrating separate hardware products into new configurations can be seen as another way to create new solutions or systems that benefit the end user in the sense that the product integration has been done by the vendor. Additionally, the same is happening with (third-party) software – many of which which are integrated or combined with new hardware offerings, (such as the Topcon's GTL-1000 robotic station with ClearEdge3D Verity software) to create new solutions and systems.