Infrastructure and civil design projects are essential for the functioning of cities and roadways, and urgent repair and redesign projects simply cannot wait out a pandemic. Bentley Systems, makers of comprehensive software for design, constructions and operations of infrastructure aims to support those working on crucial infrastructure projects, especially those who are working remotely. To do this, Bentley has announced that it will be opening up ProjectWise 365 to new users by waiving subscription fees through the end of September 2020.
ProjectWise 365 is a Microsoft Azure-backed cloud solution for infrastructure design collaboration, and allows users and stakeholders to share information, conduct collaborative design reviews, simplify transmittals, and RFIs ad to help with issue resolution. Rather than sharing PDFs via file sharing or through several disconnected applications, ProjectWise 365 keeps everything in one place, streamlining communication even when users are apart.
Helping infrastructure work continue during COVID-19
To protect and support their colleagues during the COVID-19 outbreak, organizations around the world have shifted quickly to working from home situations. During a press briefing, industry experts discussed how Bentley Systems' civil design technology is helping the industry to better manage working remotely and to redefine how professionals design and build infrastructure projects.
In a briefing, Bentley's Vice President of Civil Engineering, Francois Valois, highlighted that despite the current pandemic, there was still a significant amount of infrastructure work being done, with some states even increasing their work because streets are emptier than usual.
"In the U.S., we can see that a lot of states have kept 'business as usual' and have still allowed roadway construction to happen. Even some states are accelerating this. So for example, Florida, last week announce that they will invest $2.1B in extra funding this year to accelerate some projects."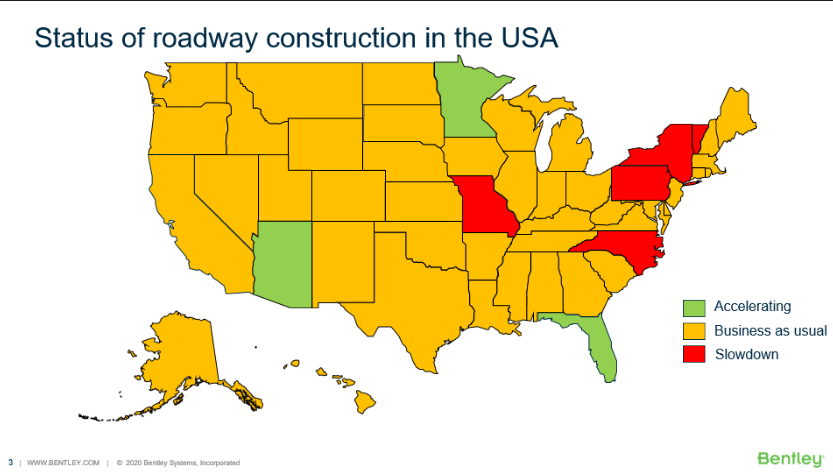 The challenge, however, is that work sometimes needs to be done with fewer people onsite, there needs to be less manual work, which is what has driven Bentley Systems ProjectWise 365 announcement, says Valois.
"We can no longer interact around a printed plan, and be pointing at each other on the plan. We have to find new ways to work"
"Our answer to that is the digital twin for transportation. And with this technology concept we are helping our users who are 'going digital,'" added Valois.
Mo Harmon, Director of Industry Strategy at Bentley Systems said one of the major goals of opening up ProjectWise 365 is to allow for the creation, collection, and sharing of data on dispersed teams.
"Some key issues facing the construction industry is the lack of productivity and safety on the jobsite. Now contractors are faced with making decisions on what critical staff really need to be physically on the job. And then, with that change, how are they going to get data back and forth to the site ad to their home base," said Harmon.
Andy Kaiyala, Vice President of Engineering at Lane Construction spoke to how important it is to be able to move that data effectively.
"Anything we are tracking with an Excel spreadsheet means that we are behind our best competitors," said Kaiyala.
During the briefing Bentley experts discussed industry trends—going digital, working collaboratively among disciplines, developing workflows across dispersed and remote teams, and 4D construction technologies. They also demonstrated how Bentley technology is helping the civil industry to collaborate and work efficiently from home with uninterrupted access, in order to continue working on vital infrastructure projects.
iTwin Partner Program
At the same time as the ProjectWise 360 announcement, Bentley Systems discussed their iTwin Partner Program where they plan to invite third-party developers to work with them to further integrate their tools.
"The developers could be startups or more established software vendors who want to collaborate and work with us," said Valois. "If they are successful, we are successful, and ultimately the industry wins. That's what we're about – making sure that were are going to go all together in advancing infrastructure.
Bentley Systems shared that they are hoping to work with industry leaders in their own domains, whether that is in construction or operations. Their goal is to help to make sure that data flows not only between Bentley tools, but through other third-party software. This parallels the similarly agnostic approach that Digital Construction Works has adopted in connecting existing workflows in more efficient ways.
"We build those integrations, but we also want others to come to the party and help," said Valois.
"We will work with these startups in and collaborate with them closely because they can create very significant and disrupting innovations that will basically change the world and the way we work forever," added Valois.