Earlier in 2020, Trimble announced the release of their TDC600, a rugged mobile device designed for the field and powered by Android OS. Touted as a solution that could reduce the number of devices surveyors need in the field, the TDC600 includes its own built-in GNSS packaged in a small form factor. To add on to the robust system, Trimble has updated the latest version of Trimble Access to support the device. The Trimble Access 2020 field software will allow surveyors to gain the ability to use familiar workflows and instruments while remaining in the Android OS platform.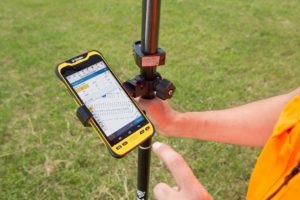 The advantage to the TDC600 is definitely its small, lightweight design, and offers a lower-cost entry for those wanting to use Trimble Access software and workflows. Jason Rossback, marketing director for Trimble Geospatial Field solution says that the combination should broaden the potential users of the device.
"The ability to use the intuitive field software on the Trimble TDC600 Android device will put Trimble Access in the hands of more surveyors and engineers. This solution provides a powerful option for field workers such as road inspectors, who need the full set of survey tools combined with the portability of a mobile device."
The updated Trimble Access 2020 also comes with some additional features, including a "Snap-to Toolbar" that allows users to select locations on objects in maps by snapping to a specific point, even if a point does not already exist. The addition of a "Limit Box" function allows you to excuse data in a map to view areas more clearly, for example, by removing elements from a yard when you are looking at the structure of a residence. More information on specific software upgrades in Trimble Access 2020 are provided on a blog post.
Trimble's TDC600 Android device and Trimble Access 2020 are both available now through Trimble's authorized Geospatial Distribution Network. Customers using Trimble Access on Windows 10 devices, such as the Trimble TSC7 and Trimble T10 tablet, can also upgrade to Trimble Access 2020 for Windows to take advantage of additional tools and workflows in the new version, including independent measurements with GNSS constellations and additional user-interface enhancements.
For more information, visit:  Trimble Access.