At the 2020 VRARA Global Summit, 3D VR company The Wild hosted a virtual design competition, challenging its entrants to showcase their visions for the future of "digital socialization". The challenge was to design a space that encourages "digital socialization or innovative social distancing" and examples could be the workplace of the future, an office, a public space, a lobby, entry way, room or building or other architectural space.
Six competition finalists showcased their projects during the VRARA Global Summit within The Wild virtual reality platform. Judges Aubrey Tucker (Autodesk) and Amy Peck (HTC) were present inside the virtual environment with the finalists to judge their designs from the inside. Being able to walk around their creations was a unique feature of the competition, and a delight to watch. At the conclusion of the presentations, Peck and Tucker named the winner as Spatiality – a project created by Akshansh Chaudhary.
Spatiality reflects on the Internet, privacy and safety
Chaudhary is a recent graduate of the Parsons School of Design, earning an MFA in Design and Technology. Akshansh originally designed his model using Tilt Brush and Unity and brought his model into The Wild as an FBX. Spatiality features structures representing various social networks and technology companies, and their metaphorical and physical manifestations. To Chaudhary, the project was inspired by his time self-isolating during the beginning of the COVID-19 pandemic while living in New York City.
"Due to the lack of social interaction in NYC, I wanted to create a space for people to interact and engage socially, and VR has the potential to have that engagement. I was inspired by apps like Altspace VR, VR Chat, and Half Half. The architectural landscape that I have designed is stylistically organic and redefines visits to social media portals. Its design in Tilt Brush makes it a playful interactive experience."
The floor and the outside shapes in purple are not made up of solid colors, but are layers and layers of text that include his own personal information. According to Chaudhary it includes names and information that would typically be used to exploit privacy – like relatives names and addresses and so forth. Surrounding the space is a gallery of different tech companies – including Google, Facebook and Twitter – in a "technological landscape" that demonstrates both his feelings and impressions of their roles in society and their treatment of private information. In front of Facebook there is a shady looking character which is how Chaudhary "perceives Facebook" when it comes to trust around privacy. Each social and tech company has a different feeling and aesthetic, with seating or viewing areas made up of components such as likes, hashtags, or strings that tie people to the technologies that they depend on.
In an interview with SPAR 3D, Chaudhary said his interest in privacy began last year when he was working on a school project on local journalism.
"Journalism is not my domain, but I was reading about fake news and how people perceive it… and as I got involved in the project, I realized that advertisements on news sites are based on infrastructure that is based on data collection – and that gradually became the basis of understanding data being collected, and what we can do as individuals to become more comfortable in understanding the use of that data."
"As I started researching more, I realized I had to be much more vigilant about [privacy], and it led me to design an interactive experience that allows people to have conversations and create a safe platform that allows for that discussion… My design thesis was about putting people in virtual spaces and asking them to make free decisions on data privacy or data collection and seeing the result of those decisions."
Inspired by his thesis project, he started to think about how to represent his own feelings and relationships with the social networks around him for the VRARA competition, which were ultimately shaped by his experiences during his isolation from COVID-19. He reflected that he had made Facebook quite dystopian looking, probably due to the news around the platform at the time, and Google is cleaner and feels safer in the space.
"I was starting to get comfortable with having a Google Home at home – I started talking to it more once I was isolated, I was indoors and needed someone to talk to, and it affected the landscape as I created it."
You can watch a full tour of Chaudhary's space is below (starts at 33:33 minutes).
Whimsical Lounge Pods earns Honorable Mention
Designed by Nicholas Peruski, Lounge Pods received an honorable mention in the competition. Taking a playful, almost Dr.Seuss-ian design, Lounge Pods models an outdoor work or break space, featuring stairs, viewpoints, and platforms that line up in pleasing curved and circular modalities throughout the space. Peruski created the space in Rhinoceros 6 by manipulating and extruding curved shapes, cutting holes, and drawing shapes. Also a New York City resident, Peruski was inspired by social distancing circles painted on the grass of Domino Park in Brooklyn, New York. The platforms, or Pods, are separated with adequate distance yet allows comfortable groups of friends and families to enjoy the company of those in the other Pods. A collection of stairs and tubes represent a series of passages and thresholds as in a quarantine or disinfection scenario.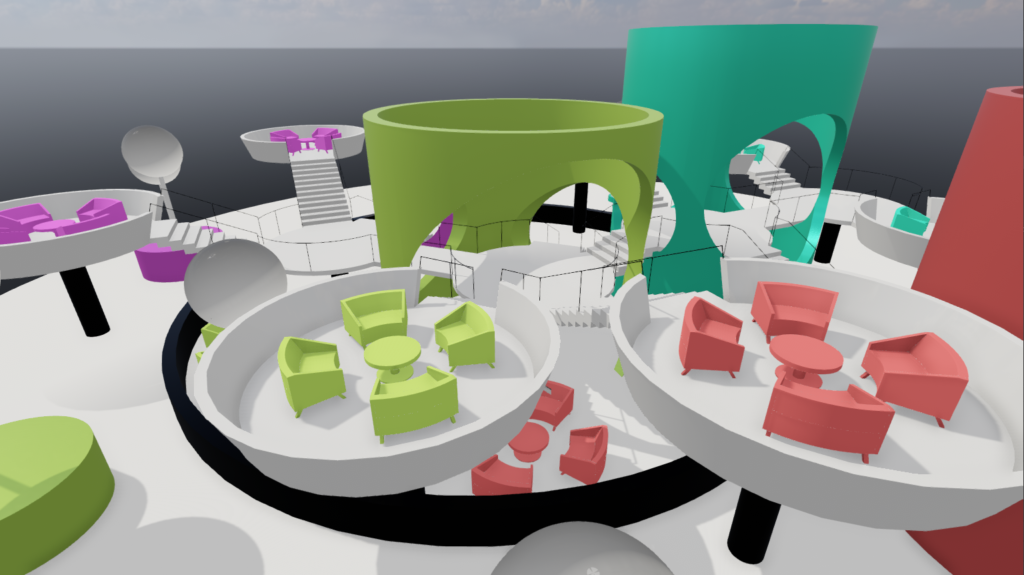 If, like me, you are in need of something to be inspired by lately – I encourage you to take a moment to watch the video tour through all six of the competition's excellent entries (below). The time and inspiration that these students put into their work is exceptional, and we are sure at SPAR 3D that they will be the among the visionaries defining our 3D spaces of the future.
Thanks to The Wild and VRARA for sponsoring this design competition.