A notable trend for VR and AR companies in 2019 was to commit to developing for enterprise users. While many companies may have cut their teeth on entertainment, some are finding that focusing on business use cases is the more sound strategy. Magic Leap, for example, recently announced that they will begin targeting business customers, and Microsoft's Hololens 2 has already been adapted into many work-ready scenarios. So it should not come as a surprise that Varjo, who have been pushing for human eye-resolution VR and AR have doubled down in the business space. Today Varjo announced the development of a new 2D/3D immersive user interface and "infinite desktop" that aims to reinvent the way we work, design and interact with software.
Varjo "Workspace" is what the company is calling its new "Dimensional Interface." This virtual environment is a space in which professionals can use Microsoft Windows applications as well as 3D software tools within an VR or AR environment. This allows users to switch between real, virtual and mixed reality modes to perform their work, but also to have an opportunity to experience that work in 3D.
Instead of taking a holographic approach like the Hololens, Varjo does "mixed" reality a bit differently. Instead of having everything slightly see-through, they've created modes with a "video-pass through" where a video of the room is shown through other virtual elements. This allows for situations where augmented reality and virtual reality are blended – including some stunning capabilities from a visual standpoint.
According to Varjo Chief Product officer Urho Konttori, this video-pass-through method is key to a realistic experience.
"Video pass-through is the only way to reach photorealistic mixed reality. We believe it has higher value for the customers where the quality of the virtual objects is high. This is especially so for training and simulation and design use cases. Optical see-through is great for on-the field use cases, but what you can achieve is very ghost like, and limited field of view. With video-see-through you can achieve full field of view, and objects appear and behave completely realistically."
In a series of demonstration videos, Varjo showed off the new features – which include the ability for a virtual object to react to lighting changes and to reflect the real room in which they reside.
More straightforward, and yet still ground-breaking is the ability to access a Windows desktop at any size with incredible sharpness, readability and resolution. This is due to Varjo's investment in their human eye-resolution technology (which we've previously covered on SPAR 3D). Varjo claims that because of this technology, they are the only headset that can display readable text on a virtual screen and to mix the virtual and real worlds together so seamlessly.
This capability makes it possible to imagine a workspace where large desktop monitors are no longer needed – you could simply setup as many virtual screens as you would like to work on and you could even read your email in VR. When you've made that tweak a design you've been working on (with a mouse and keyboard, even), you can then take your work back to 3D – or even look at both at the same time.
The Varjo Workspace user interface can be used with the XR-1 Developer Edition headset, which joins the 2D user interface with photorealistic 3D capabilities. Varjo's target audience – design professionals, engineers and trainers – can work using the desktop applications with which they are already familiar, while also leveraging the benefits of a mixed reality environment, without taking off their headset. Varjo plans to target users in the training and simulation space where a headset is already providing value, extending its capabilities more fully.
In the automotive world, Volvo has already put the technology to use in using the XR-1 to design new car interiors and interaction systems. Because of the video-pass-through, designers can wear the headset while driving the car which allows them to to visualize the future developments on top of a real car.
The future of workspaces
According to Konttori, the Workspace's design is part of their vision for future workspaces.
"Our vision is to empower creative professionals to be able to be more creative and productive at their desk, or anywhere, using Varjo's devices that replace monitors with infinite screen walls wherever. We believe that collaboration and cooperation is more powerful inside XR than through any previous collaboration method, including whiteboard and pen. Enabling true XR collaboration will have profound impact to society that will change the way we perceive location of the creatives of the future."
Fighting VR fatigue and preparing for real-world use
This might still be difficult given the relatively hesitant VR market. At the recent VRAR Association Summit in Vancouver, several panelists mentioned a challenge that VR companies can face. Users of to virtual reality often put them on for only a few minutes at a time, which is really an unsustainable duration for doing 40-hour-weeks of work. Switching back and forth from computers to a headset is also frustrating, and so it VR can face an uphill battle in becoming significant part of the normal work day – staying relegated to the "once in a while" category that is hard to justify in terms of cost.
This workspace from Varjo seems to combat that in a unique way. The interface should be able to provide users with more options so that they can now both modify their 3D models as well as experience them – without ever taking off their headset.
"Varjo has always been focused on creating the absolutely best VR technology without any compromises, so naturally the design and comfort has been one of our top priorities together with never-seen-before visual fidelity of human-eye resolution," says Konttori
"As our Bionic Display provides natural resolution that matches the human eye, it's easier on the eyes compared to lower resolution systems as you can see even the smallest of details without any extra effort. Our innovations and advances in the visual fidelity, combined with industry-leading physical design and the video pass-through technology, has enabled Varjo's own development teams to work extended periods of time by using the headset as their only physical monitor with XR-1 and our dimensional interface."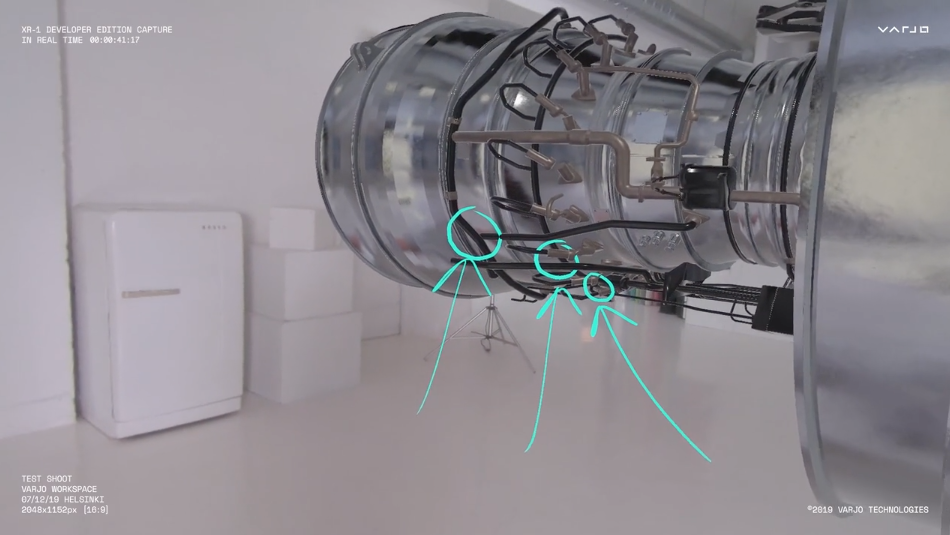 On additional benefit to this mixed environment may also be speed. According to Konttori, If there is no need to switch back and forth between hardware, there isn't an interruption to typical workflows, thus providing even more of an ROI.
"Our dimensional interface speeds up the adoption curve considerably for creative professionals, as it's the only available technology that lets you instantly leverage your existing skills for CAD/design software while designing inside VR. It is only possible due to Varjo headsets' human eye resolution that enables realistic use of virtual screens inside VR."
"Further, Varjo's mixed reality makes it easy to actually use and operate mouse and keyboard, the seminal tools of the CAD world. It's not about waving hands in broad strokes, but the precision and efficiency you achieve with mouse, keyboard, and your existing experience of your creative tools."
Varjo Workspace is currently shipping to customers and partners as part of the software delivered with the XR-1 Developer Edition. The XR-1 Developer Edition headset is available for purchase immediately at $9,995 (USD and Euros), and is sold together with Varjo's Software and Support service at $1,995 (USD and Euros). Varjo plans to implement customer and partner feedback in 2020 to further deepen its integration with professional design, engineering and simulation tools.
Additional example videos of Varjo Workspace, captured through the XR-1 Developer Edition, are available at vimeo.com/varjo.