Using Aerial Mapping to Grow Your Business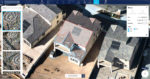 Architecture, construction, and engineering businesses reap significant advantages by using HD aerial maps. Instant access to ultra-sharp, up-to-date aerial images allow you to plan, inspect, and estimate real ground conditions without sending vehicles, equipment, and labor on-site. Learn how to plan more efficiently, communicate better, and win business faster.

Download the white paper & learn how to:
Rapidly identify new work
Reduce costly site visits
Inspect & estimate remotely
Enhance communications
Streamline planning & design
Download this report by completing the fields below.

Sponsored by:

Thank you!
Thank you for downloading the SPAR3D.com white paper: Using Aerial Mapping to Grow Your Business, sponsored by Nearmap.
An email will be sent shortly with information on accessing this content.