"BigTime is the central all-around tool that we use for our company to manage, not just business operations but our individual projects and clients"

Rob Richardson, Rio Applied Science and Engineering
Searching for a balance of functionality & usability
Rio Applied Science and Engineering (Rio ASE), is a Boise Idaho based environmental firm specializing in complex projects, including salmon habitat restoration, river restoration, and the protection of threatened and endangered species. As a medium-sized boutique firm with modest plans for growth, Rio ASE focuses their resources on delivering high-quality service with minimal overhead costs and prides themselves in the capabilities of their technical teams.
As principal geomorphologist, Rob Richardson's role includes both providing technical expertise, but also in managing product resources and people. In balancing the technical and management needs at Rio ASF, Rob tried many other project management software packages before working with BigTime.
"I researched many dozen different similar applications," said Richardson. "Some were too simple and did not perform all of the applications and functions that the firm was looking for." Others were more robust, Richardson found they were challenging for his team to use.
"[For some other tools] they would require having actual staff on hand to be able to manage the software… I didn't want to have to bring on somebody just to manage a software product, and I needed to be able to understand how to use the tool."
Another consideration was the onboarding of new employees. Even if the existing staff could be trained to use project management tools with a steep learning curve, it would slow down the hiring of new employees to train them in it, says Richardson.
"Whenever we hire new people, we don't want them to have to go through significant training or have difficulty in understanding how to use the tool."
All the power without having to hire a specialist
When Richardson began working with BigTime, it was immediately clear to him and his team that the tools stood out among others they had tried. 
"BigTime is a really nice balance that hit that sweet spot for us in providing about 95% of what we needed and doing it in such a way that it was easy."
Richardson reports that they are now using BigTime to manage all of their time on every project, allowing them to evaluate each project individually and track their time and budgets accurately. 
BigTime's time tracking system features customizable views, smart lookups, user-driven presets/defaults, and more support the most intuitive timesheet on the market.
"[BigTime] is really the central all-around tool that we use for our companies to manage not just our business operations, but our individual projects and clients," says Richardson.
"The fact that it is so intuitive, that the user interface is simple to navigate through – well it's incredibly important for us because as we bring on new staff, they can take very short periods of training (5-10 minutes) to understand how to navigate through it."
In addition, when the firm needed support, that was just as easy for them to navigate. The team at Rio ASE feel confident because they know that they can get answers when they have questions or don't understand something. 
"They are really quick to respond either by chat or via phone, and are even helping us to try to implement new tools within their software, which I think is amazing," reports Richardson.
The combination of intuitive user interface design and a responsive support team means that they did not have to dedicate specific staff resources to training or maintaining the solution, freeing them up to work on more innovative environmental projects in the future.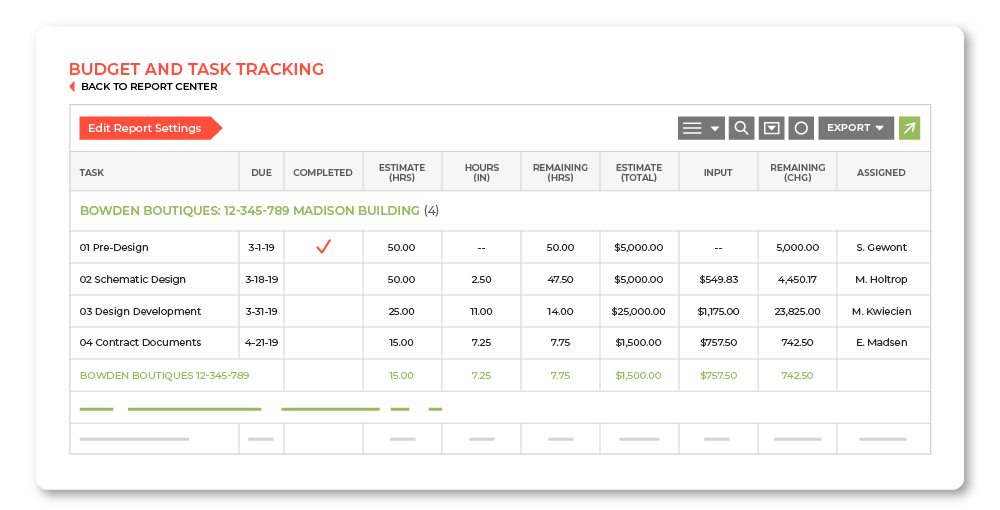 Don't be afraid to give it a test drive 
The number one thing that Richardson recommends when looking for a new project management software is to take it for a test drive. While some of the other applications might look good on paper, it usually becomes immediately clear whether or not a tool is as user-friendly as it reports to be.
"We went through dozens of applications and test drove them and saw how they worked. We actually got a chance to see how simple or how difficult they were and the variety of different user applications that were associated with the tool. In doing that, that was really the best way to try to understand whether or not BigTime was a good fit for us. I definitely encourage you to do that."
To get behind the driver's seat for your own BigTime test drive, request a demo today. >> 
For a comparison of how BigTime stacks up to other professional services automation software, check out the G2 grid comparison report, where real-users share their rankings of each software's features, ease of use, implementation, and more. 
Evaluate the top professional services automation software side-by-side with G2's grid report. >> 
---

BigTime Software offers a powerful time, billing, and expense tracking platform that allows firms of all sizes to manage projects, budgets, and organize their workflows. There are tools for tracking and billing time, expenses and producing invoices, and smart technology for managing staff capacity and reporting.
BigTime delivers time-tracking, billing, and project management software for more than 2,000 firms, tracking over $4 billion in billable time each year. The flagship product is a SaaS-based system that is custom-built for the professional services industry.